A smartphone is the symbol of the current era. These handheld computers replaced "classic" computers, and it's no wonder that there are more and more mobile applications devoted to cryptocurrencies. They gradually become more and more popular among the wide audience. It is difficult to choose the best cryptocurrency app, because different applications are meant for different purposes. But you can choose the best applications in each category. Let's start.
The best cryptocurrency app for market monitoring
Since rates of cryptocurrencies change fast, there are a lot of applications for monitoring the rate and alerting the user to movements in the markets. Such applications like cryptocurrency portfolio trackers are used to track the value of the investment portfolio or individual currencies and help not to miss sudden changes in rates when every second is important.
CryptoTrax
The application supports 500 cryptocurrencies – it will not be difficult to find interesting ones. It displays information on the rate and charts for changes during the day, week, month, year and the entire time of the coin's existence for each cryptocurrency. You can see the price in dollars, euros, rubles, yuan and another 31 currencies, among which are both fiat and popular cryptos (Bitcoin, Litecoin, Ethereum and so on).
But the application functions are not limited to information on rates. CryptoTrax allows you to create an investment portfolio of cryptocurrencies. After entering each asset and its quantity, the application allows you to view all your cryptocurrencies in the form of a sorted list with information about the price of each asset and price changes for the last hour, day and week. You can evaluate the portfolio in the form of a pie chart, clearly showing the share of each asset.
But that's not all. Alerts about the prices will help not to miss the most interesting events. The implementation is simple: choose the coin and specify the price. As soon as coin reaches the price, the application will notify about it with the pop-up message. You can add as many notifications as you want.
And the last function of the application – a feed for news regarding cryptocurrencies in one way or another – allows you to keep your hand on the pulse of the market and to be always prepared for unexpected events.
Despite the rich functionality, it is not difficult to use the program. It is free but contains ads that are disabled by purchasing a pro version for $ 2.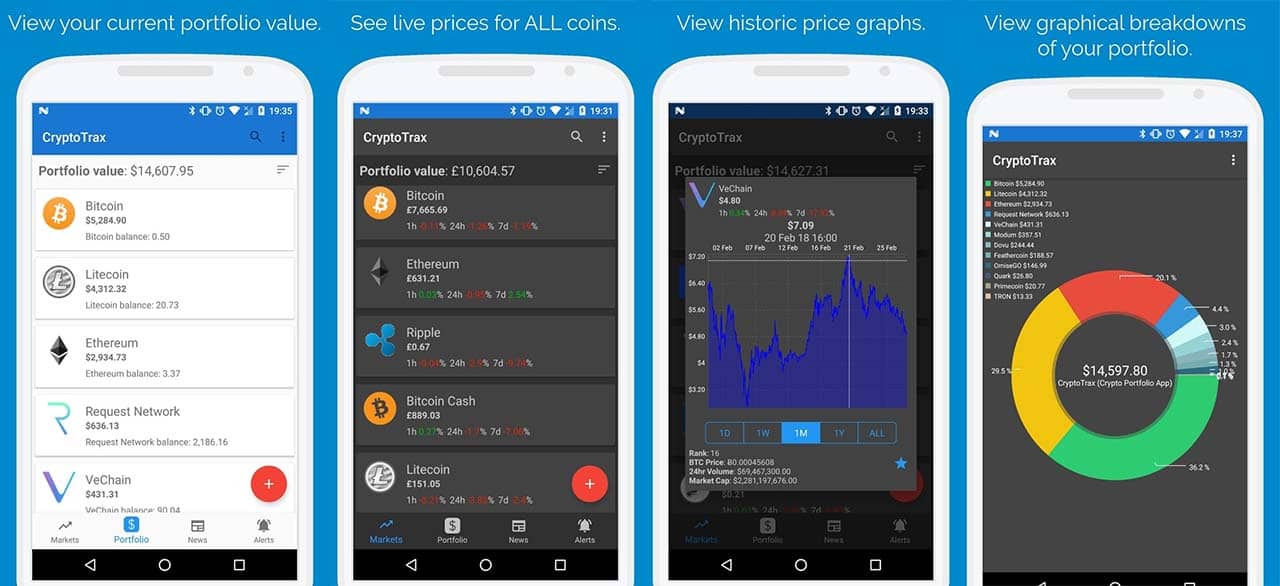 CryptoTrax for Android
Delta Portfolio Tracker
If the capabilities of the previous application are not enough for you, try Delta Portfolio Tracker (getdelta.io) – the best cryptocurrency apps application for monitoring, but suited only for those who are not intimidated by a complex interface. The application supports 2000 cryptocurrencies and tokens, and updates data on most them automatically. For every coin, a list of exchanges where the coin is traded is displayed, and with a couple of taps, the trading chart for each exchange can be seen. You can create an investment portfolio of cryptocurrencies and not only monitor its price in real time but also see the portfolio's value chart. And it doesn't matter if you can't find the asset in the application database. Delta allows you to add any asset, specifying its name, tag and price. Notifications of price changes are implemented as in CryptoTrax, albeit with a less intuitive interface.
But this is not a complete list of this application advantages. Delta Portfolio Tracker – the program of home cryptoaccounting. Each purchase, sale and exchange is recorded in the application as a transaction specifying when and where the operation was performed. At any time, you can see any transaction and restore the funds movement history in memory. Don't want to enter transactions manually? Connect you exchanges accounts in the "read-only" mode and import the data automatically.
Transaction settings and history are stored in the cloud, allowing synchronization between multiple devices.
The application is free, but without purchasing a pro version, there are a number limitations on the number of connected exchanges accounts, the number of devices for synchronization and so on.
Delta Portfolio Tracker features are excessive for most users, the interface is a bit confusing – the application is not suitable for everyone.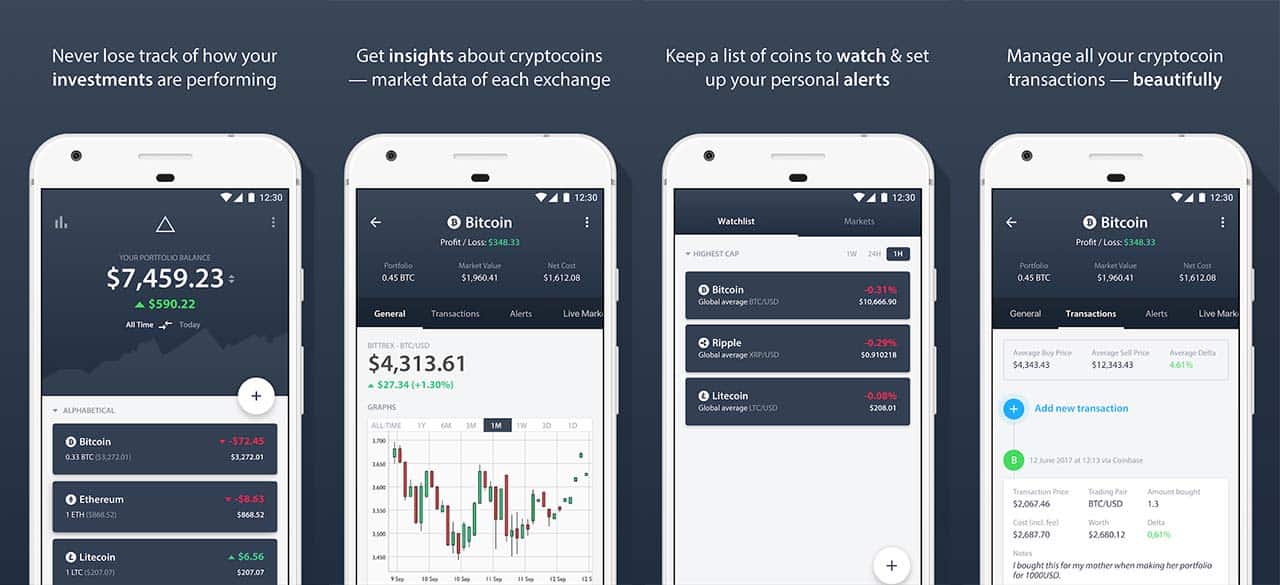 The best cryptocurrency app for storing and managing finances
They are also called mobile cryptocurrency wallets. Unfortunately, even popular currencies may not have their own mobile wallets. Usually, mobile wallets are mobile applications for web wallets and exchanges' apps, and that contradicts the idea of cryptocurrency and the principles of security. But there are several multi-currency wallets that are not client services and are implemented as full-fledged "thin" wallets, with the ability to make backups and store private keys on the device, rather than on a third-party server. We'll talk about them.
Jaxx
Multicurrency wallet, created in 2014, which is gaining popularity – 500 thousand downloads on Google Play (jaxx.io). This is a full-fledged thin purse, in no way inferior to desktop analogs. On the official wallet site there are links for Windows, Linux, OS X, Android, iOS version and even the application as an extension for Chrome. It supports 65 cryptocurrencies, including all the main coins some exotic ones that the author has never heard of. The application has a built-in cryptocurrency exchanger.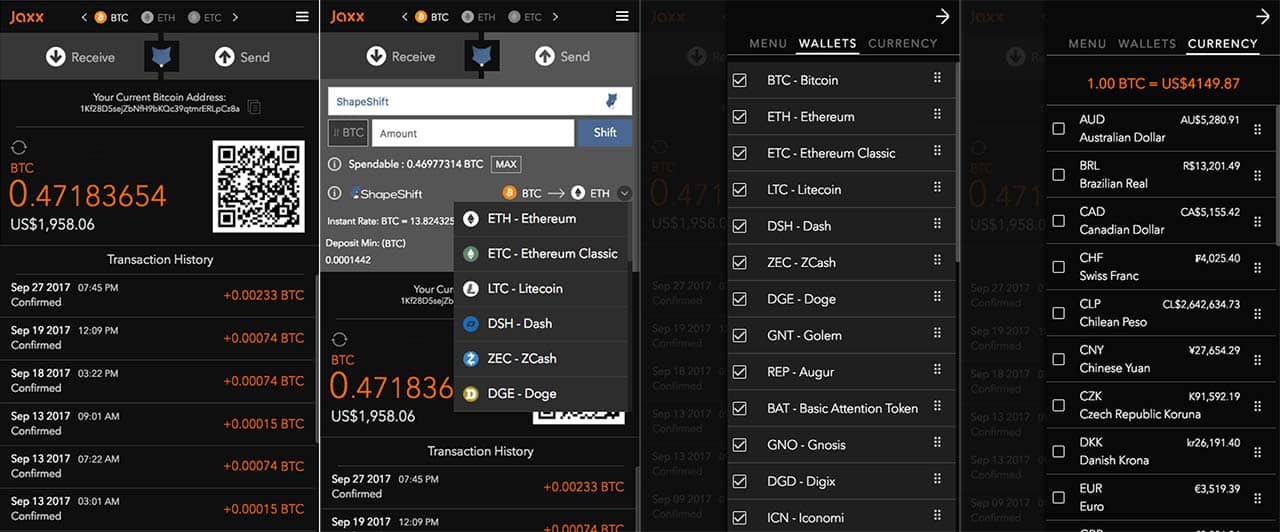 Coinomi Wallet
Another popular wallet that supports 112 cryptocurrencies. Unlike the previous one, Coinomi.com immediately generates a seed phrase with a request to write it down, in the next step it requires you to enter the seed phrase you received to make sure you saved it and then asks for a password. It looks like developers really care about security. Of course, you can skip checking steps and password, but the pop-up messages strongly do not recommend doing this. In general, the functionality is similar to Jaxx, but more supported coins, nice design and improved security make this application probably the best cryptocurrency app among the mobile wallets. Unfortunately, there is no desktop version.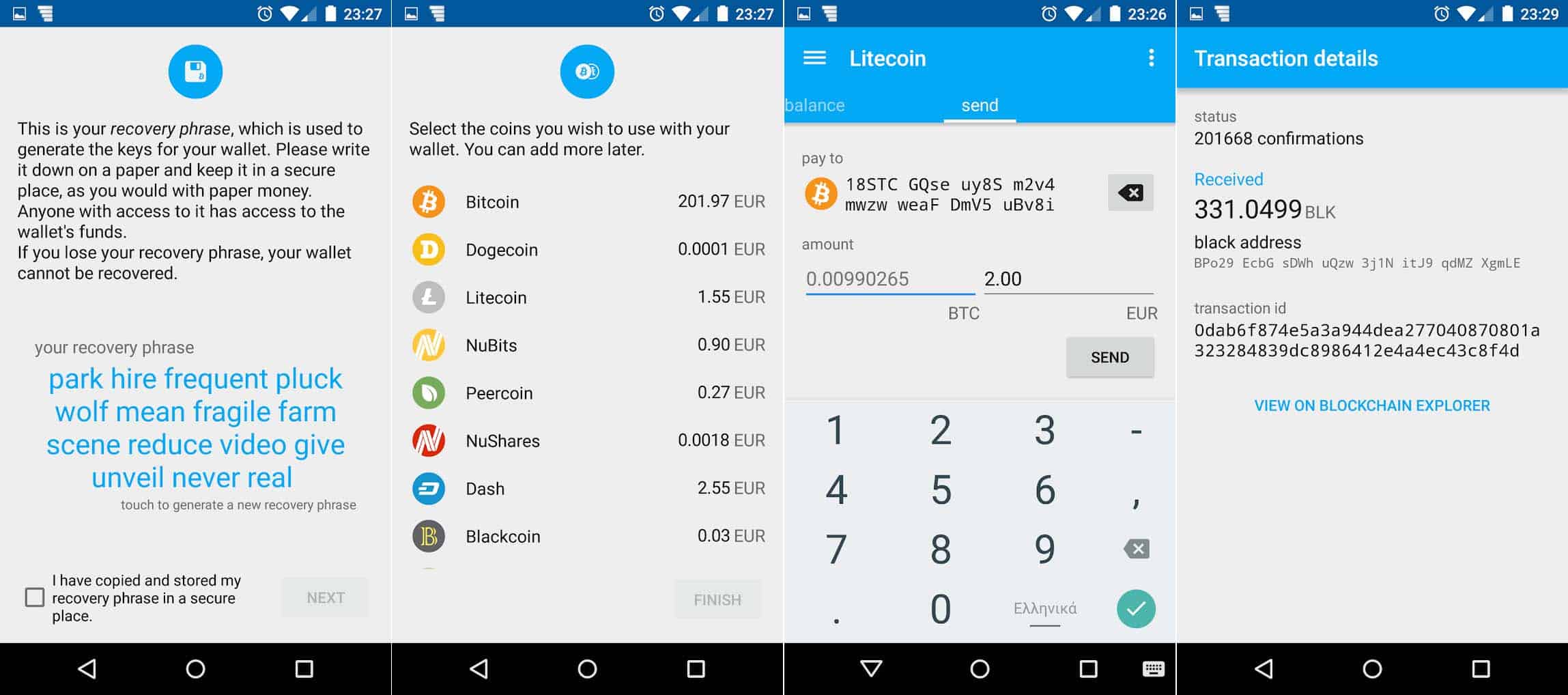 Unique applications
There are applications that most people don't need, but those apps do not have competitors in their niche – often because there are simply no counterparts.
Bitcoin Map
An application that shows stores and services where you can pay with cryptocurrencies for goods and services on the interactive map. Most of these shops and services accept Bitcoin for payment, but you can find places that accept other coins. On separate tabs there are a list of companies near you, currency rates and a built-in calculator. The app is completely free, does not contain advertising and is available for Android and iOS.
MinerGate Mobile Miner
Don't you mine on your smartphones yet? The MinerGate.com mobile miner will allow your smartphone to generate revenue. Make your phone work!
This is a joke, of course, but seriously, if you have a bunch of old smartphones you can mine a bit. But do not wait for the amazing income from mobile devices. The Samsung Galaxy A5 of 2016 on the CryptoNight algorithm makes 25 hashes per second. For comparison, a single GTX 1060 squeezes out 270.
Well, you can use the application also as a benchmark or load testing program, just do not forget about cooling. The app is available only for Android.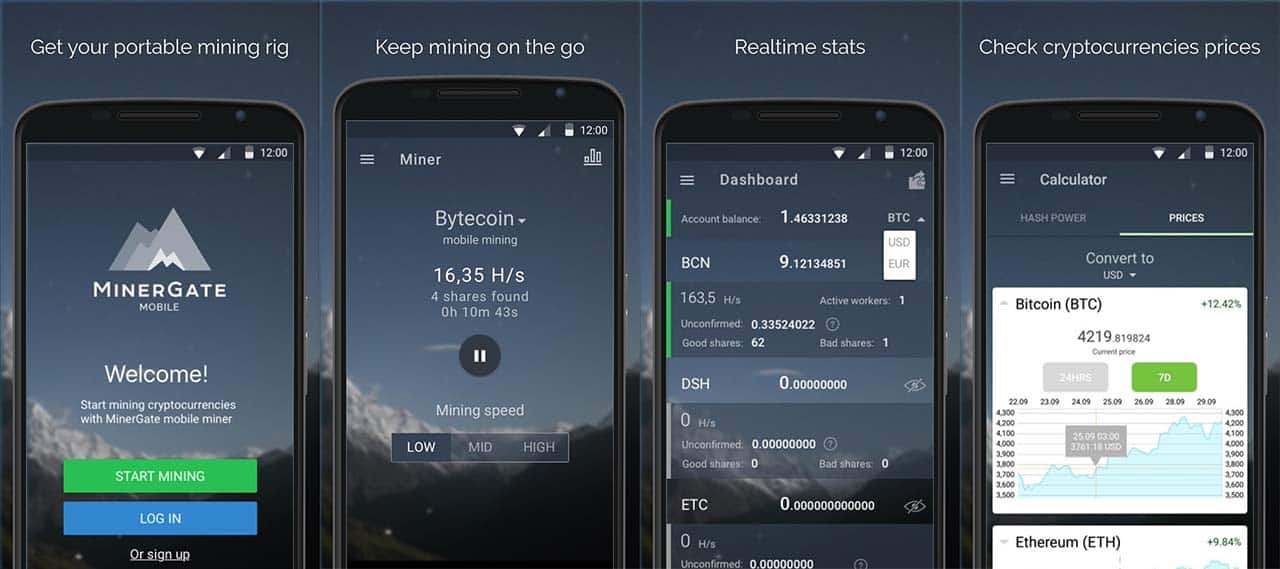 Reviews
Your comment has been sent successfully.